ABOUT JJ INTERNATIONAL EDUCATION CONSULTING
With more than 10 years experience in the education industry and continuous expansion, JJ International Education Consulting aims to offer offshore students opportunities to reach out to leading academics as well as provide high standard consultancy services to all onshore students that require assistance for different academic purposes in Australia. Headquartered in the vibrant and dynamic Melbourne City, 'JJ' was established by a group of reputable consultants with first-hand experiences of the challenges and tedious procedures international students may face in Australia. This is why we take pride in devoting to unbiased, ethical and honest guidance about Australian International Education.
WHY JJ INTERNATIONAL EDUCATION CONSULTING?
Choosing a right education and immigration consultants is crucial as it will result in your 'whole-of-life' experience and potentially reflect your future. So while your family, friends or yourself may find some useful information, the truth is you need years of experience in the education field and have particular tools in hand to be frequently updated to be successful. As visa requirements and border protection laws change all the time and vary hugely depending on your nationality, JJ International Educational Consulting will be ensuring that your university and application process will be as smooth and efficient as possible.

Here are the reasons why students chose us to be their consultants:

1. Our achieved reputation and results speak for themselves!
We have more than 10 years experience in the industry, and through providing a highly personalised service, we have successfully helped students in achieving their dream education. Many have managed to acquire Permanent Residence with respected jobs, and together, we are proud of all our achievements!
2. We were once international students ourselves!
The founders of JJ International Education Consulting and almost all of our members had first-hand experience with their own International Studies. We therefore truly understand the support you require and are committed to offer ethical and honest advice.
3. Professional Legal and Immigration Team.
We have a group of Registered Immigration Lawyers with experience in managing a range of Australian visa applications from student to skilled independent visas. With a strong team of professionals, we have not only successfully arranged hundreds of clients' desired visas, but also resolved many complicated cases, such as terminated student visas.
4. Honest, Less Time and Money consuming.
We are authorised representatives of many leading institutions and schools, thus we can offer on-spot enrollment saving you time and money. Our clients recognise our wide knowledge and are reassured when applying for any course
5. Financially Transparent at all times.
When you use our services, please be reassured that all the fees and costs would be clearly showcased and detailed. The clients are free to choose suitable to their needs services.
6. Our service involves a 'Start-to-Finish' process.
This means we continue providing you assistance once you arrive in Australia by having a headquarter office in Melbourne, which can be easily accessed by students.
Your experience is important to us as your accomplishment is our success!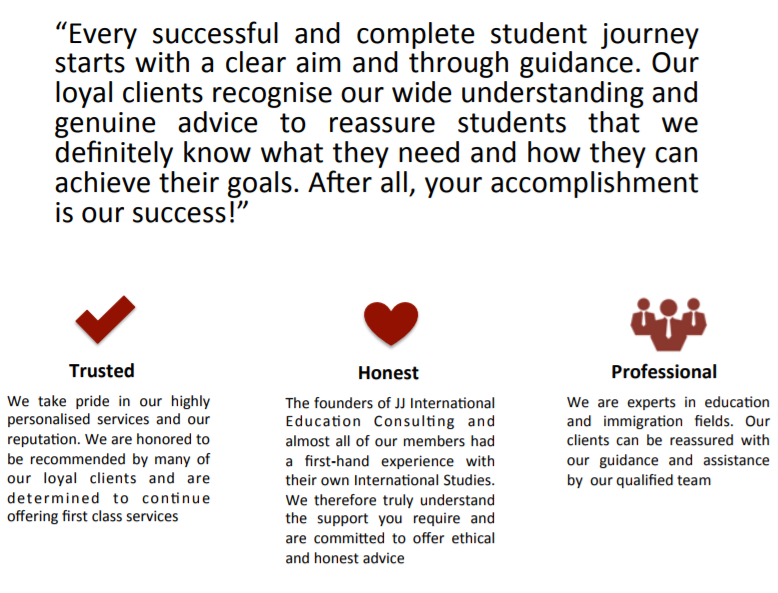 OUR JJ TEAM
JJ International Education Consulting consists of a team of professionals with decades of experience as teachers, professors, administrators or even as international students themselves! The depth of our knowledge and extensive experiences allows us to reassure you that we know how to guide you and we definitely know what you would need to achieve your goal.

DIRECTOR - JUDY LUU

Qualifications
Bachelor of Banking and Finance ( Moscow, Russia)
Diploma of International Trade ( Melbourne, Australia)
15 years experience in education consulting field

MARKETING MANAGER – LUCY LAI

Qualifications
Bachelor of Business Administration ( Hanoi, Vietnam)
Diploma of International Trade ( Melbourne, Australia)
5 years experience in education consulting field
5 years experience as a Marketing Manager


PROGRAMME MANAGER – DENNIS TRAN

Qualifications
Diploma of Education and Training ( University of Melbourne, Australia)
Certified Culinary Judge- Australian Culinary Federation
Certificate IV in Training and Assessment
Advanced Diploma in Hospitality Management ( Kangan Institute, Australia)
Post Gradute Diploma in Technology & Education ( La Trobe University, Australia)

Taught at :
Kangan TAFE for 20 years
Victoria University Technology for 5 years
Swinburn University for 2 years
Willian Anglis Technology for 3 years
Boxhills TAFE for 1 year



OUR PARTNERS